We at "A Hunt Above" had the pleasure to take a sweet young 12 year old girl on a hog hunting trip in Texas. Her name is Anna and she is recovering from Ewing Sarcoma, which is a bone cancer.
When Anna was 2 1/2 years old she broke her right arm. While in the hospital the doctors noticed the bone cancer and immediately sent her to St. Jude in Memphis, TN. While she was at St. Jude's the doctors had to remove the bone from the elbow to the shoulder on her right arm. Anna continued improvement and did everything a little girl could do while growing up. She even played softball up until last year, catching and throwing with her left arm.
Anna had went on previous deer hunting trips, but just wasn't sure about shooting a gun. Then the "hunting bug" bit her while she was dove hunting in September of 2009. She told her step-dad that she wanted to go on a deer hunt now.
Anna's step-dad contacted "A Hunt Above" and we both decided to gain experience for Anna and to keep her interest in hunting that we would take her on a hog hunt. Not only would it build her confidence, but she would see plenty of hogs to keep her interest in hunting.
You all meet Anna: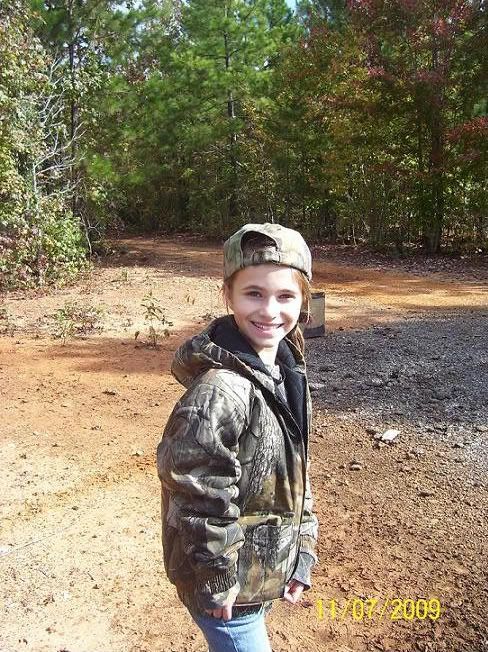 Mike Macko (director of "A Hunt Above") met up with Anna and her step-dad Heath for the short trip to Cedar Springs Hog Hunts (
http://www.cedarspringshoghunts.com/details.php
) in East Texas. We also met Chad Mesa from Messa Sky Outdoor Photography (
http://www.mesaskyphotography.com/
). Chad was going on the trip to assist in taking pictures for Anna and for "A Hunt Above".
We made it to the camp and saw hogs when we pulled in the gate. We all knew it was going to be a great trip. Randy Arfele (co-director of "A Hunt Above") joined us shortly after we arrived. We all made small talk around the campfire and played some pool and then retired for the evening.
The next morning Anna saw plenty of hogs, but not any she wanted to take. We left the stand and around mid-morning Randy saw some hogs crossing a road and call Mike Casey (owner of Cedar Springs Hog Hunts) to get Anna out there to see if she could get a shot on one. Anna headed down to the location and spotted one she wanted and took a shot with her .243. It was a hit and after a short tracking job we found her 70 lb sow. Anna was very excited. Here's a picture of her with her sow.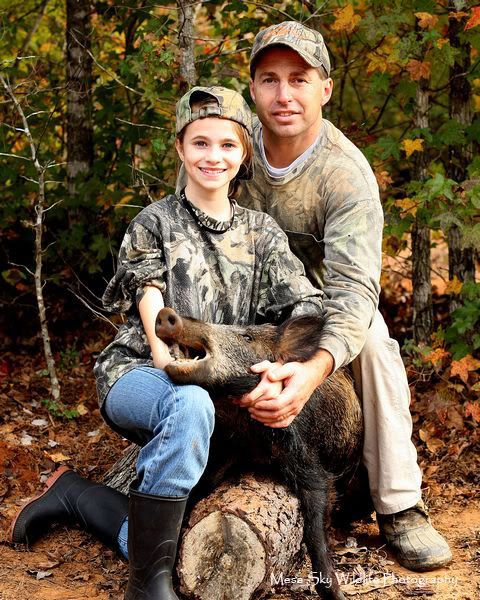 After a late breakfast and some TV watching it was time to hit the stand for the afternoon hunt. We got Anna to her stand and it was only 10 minutes in her hunt and a nice group of hogs came in the stand site. Anna picked out the biggest one and put an excellent shot on the hog. There was no tracking this one, as it expired immediately. Here is a picture of the shot.
If you look closely you can see the bullet exiting her rifle.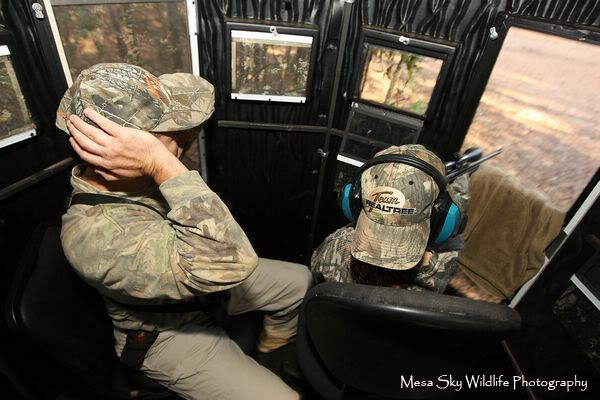 Here is a picture of her second hog which was a 90 lb sow.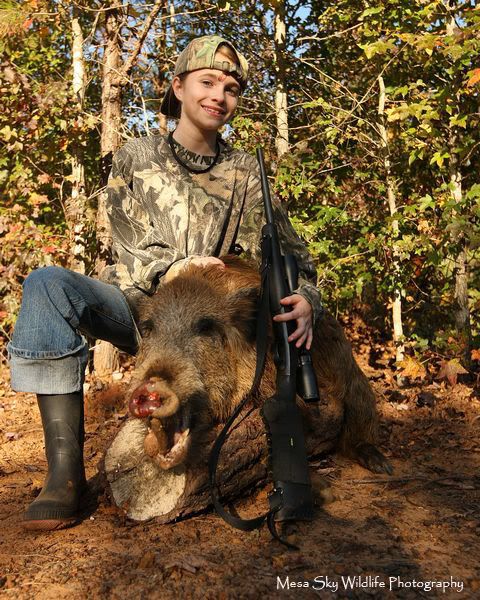 We would like to thank Mike Casey from Cedar Springs Hog Hunts and Chad Messa from Messa Sky Outdoor Photography for donating their time and efforts on this hunt.
(Group Picture)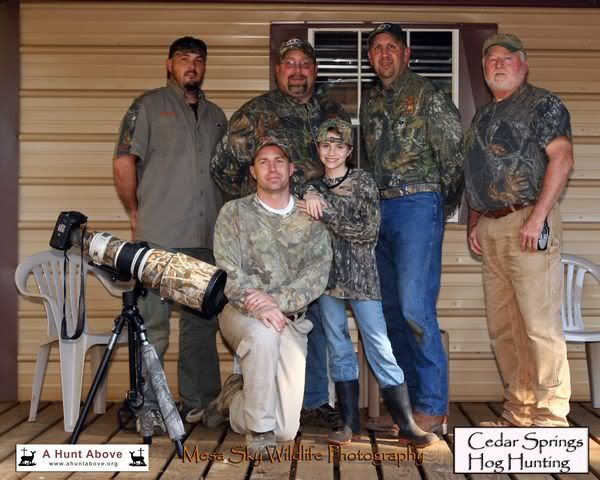 We would like to also thank the supporters who helped with the cost of this trip.
Please continue to pray for Anna to stay cancer free and for any upcoming surgeries for reconstruction to her arm.