"A Hunt Above" Deep Sea Fishing Trip in Memory of Seth Harris
We at "A Hunt Above" took Jordan D'Avy on a deep sea fishing trip on June, 22, 2009.
Jordan was diagnosed in January 2008 with Aggressive B-Cell Lymphoma. Jordan is in remission at this time. Jordan was friends with Seth.
Seth was an outdoorsman and loved everything about the outdoors. Seth died from complications of VOD (Veno Occlusive Disease) caused by the high dose chemo and radiation he received before transplant. He earned his Angel Wings at 11:41 a.m. Sunday morning May, 31, 2009 at the age of 12. We took Seth on two hunting ventures, one being a hog hunt in Texas and the other a deer hunt in Mississippi.
When Jordan was going through chemo he would not leave his room at the hospital. Jordan told us that he loved his room at the hospital and that it was Seth who got him out of the room and to open up with other people. Jordan and Seth both loved the outdoors; hunting, fishing and riding four wheelers. They became friends from that day on. I ask Jordan to describe Seth in one word. Jordan said "There's no way I can describe Seth in one word. Seth was strong, caring for others before himself, and a dear friend."
We at "A Hunt Above" were honored to take Jordan to Biloxi, MS. for this fishing trip. Island Breeze Fishing Charters (
http://www.islandbreezecharters.com
) operated in Biloxi, MS and ran by Captain Roy Holliman was gracious enough to donate this trip. We also found out that Captain Roy was a cancer survivor.
Meet Jordan: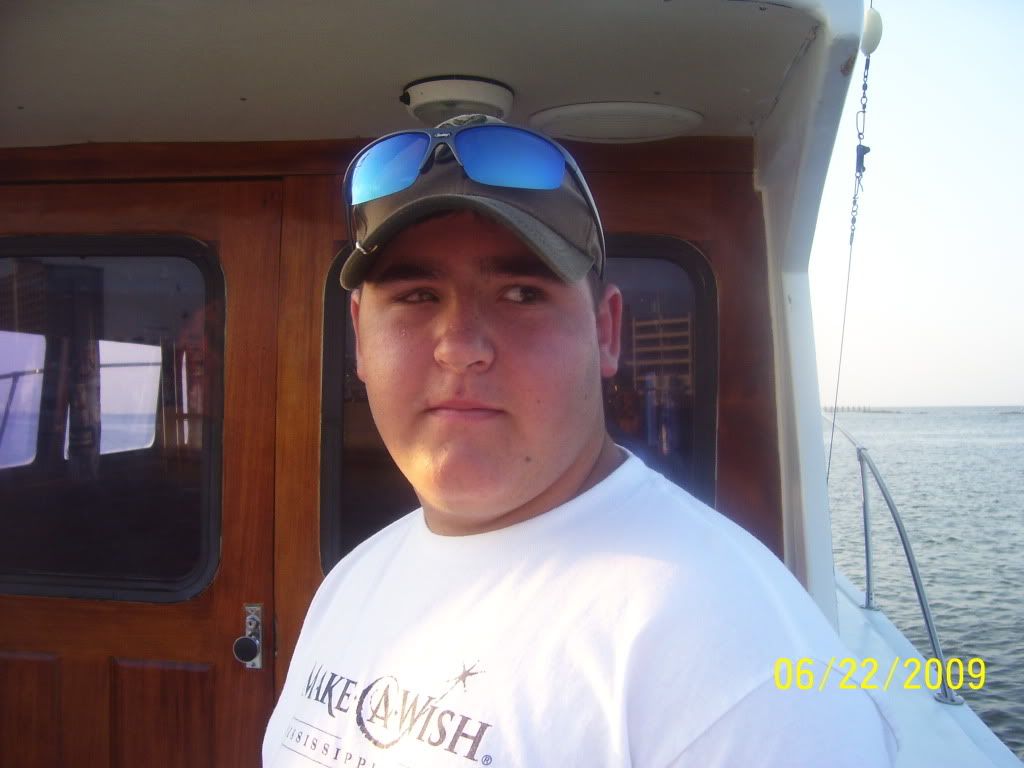 Jordan, Thomas his brother, Aaron a friend, Chuck Bagwell ("A Hunt Above") and myself (Mike Macko Director for "A Hunt Above") met Captain Roy at his boat early Monday morning. After loading the boat and meeting and greeting we were on our way. Today's target catch was Redfish, King Mackerel and Spanish Mackerel. After an hour or so ride we put out our trolling rigs. It wasn't long when Jordan caught his first ever saltwater fish. It was a nice King Mackerel.
We continued trolling and ended up catching around 24 fish. Most of the fish we caught were Jack Carvelles and we threw them back as they were not a good eating fish. They did put up a good fight though. Jordan ended up bringing home King Mackerels, Spanish Mackerels and Red Snapper. We never did get on the Redfish, but when we caught the Red Snappers it was a surprise to all on the boat, as we were only in 11 feet of water. We also managed to catch a sting ray as well.
We would like to thank Captain Roy Holliman and his staff for a very enjoyable time.
Roy Holliman
Island Breeze Charters
16405 Allie Byrd Road, Ocean Springs MS 39565
Phone: 228-392-8629 Cell: 228-860-3971
http://www.islandbreezecharters.com
We also would like to thank Chad and Dawn Harris for letting us do this trip in memory of their son Seth. We will continue praying for Seth's family and for Jordan to continue in his remission and to continue to be cancer free.
Here is some pictures of the trip: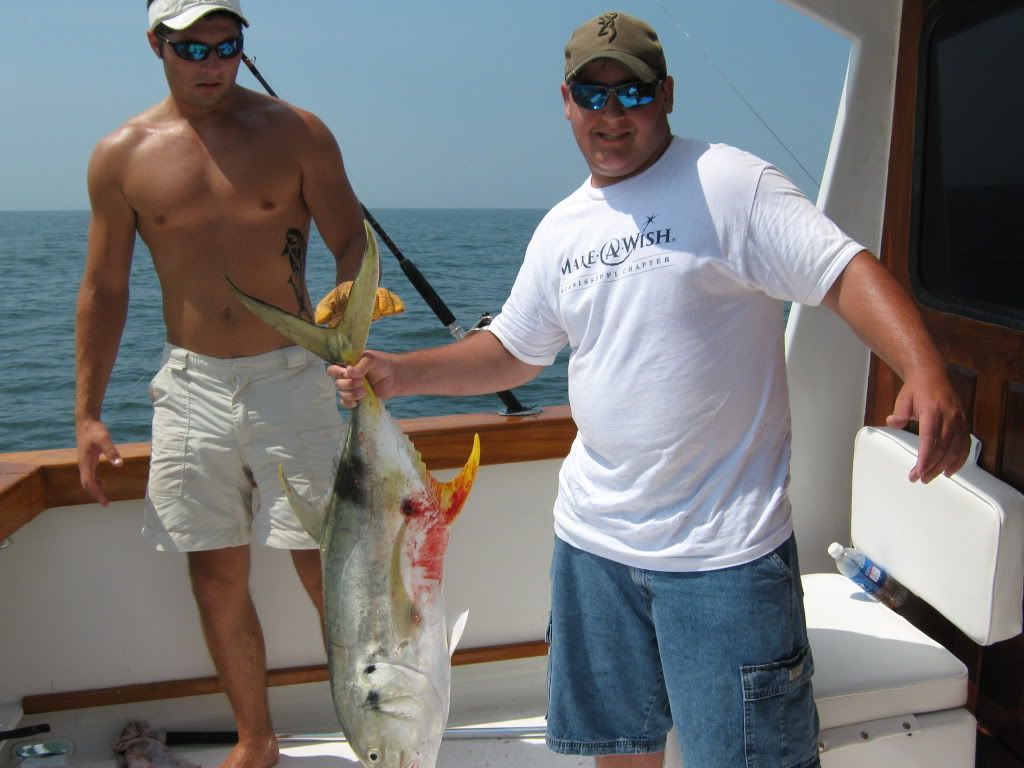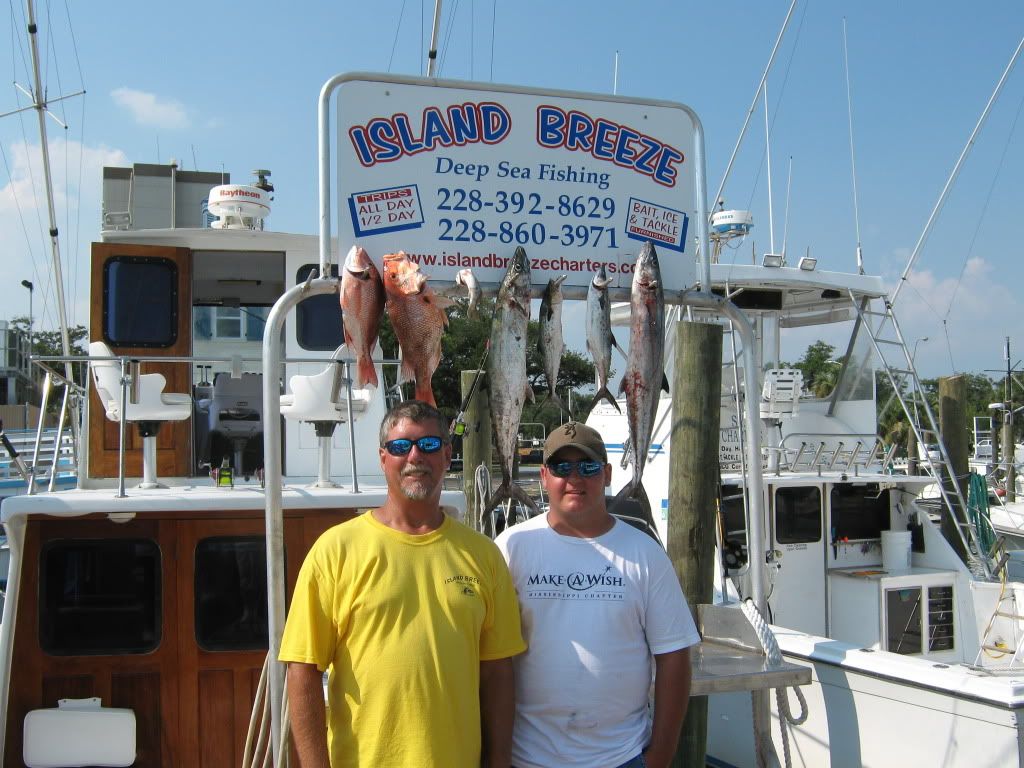 Looks like I need to get Jordan an "A Hunt Above" t-shirt to wear next time. Jordan had just received his Make-A-Wish dream last month, which was a wood working shop as Jordan loves to build things.
May God Bless,